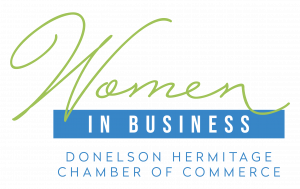 Recognizing that women command a dynamic place in today's workplace and community, the Donelson Hermitage Chamber of Commerce formed Women in Business (WIB) in 2007. The mission of Women in Business was to provide an avenue for women to connect, celebrate, mentor and support each other.
Participating in this program and facilitating related events are proven business leaders who dedicate their time to encouraging other women in the community to join and share valuable time and experiences. As women in business, we often face diverse challenges in the workplace. Through sharing of individual talents and experiences, our network becomes stronger, and we, in turn, become more balanced and successful in our individual lives.
Over the past 15 years, Women in Business has hosted more than 100 monthly community luncheons, rotating between member-nominated venues. We've been privileged to host guest speakers from all walks of life, including the First Lady of Tennessee, Grand Ole Opry members, television personalities, authors, career coaches, motivational speakers, business etiquette leaders, health & wellness experts, and experts on balancing work & family life.
Most importantly: we are an all-inclusive diverse group of women from all facets of life. Whether you are a a banker, real estate agent, entrepreneur, self-employed, store clerk, insurance agent, retired, etc., Women in Business is for you.
"Women in Business coming together in friendship to celebrate, connect, mentor and support each other."
Contact the Chamber with questions or to make reservations by phone. Luncheon reminders and additional details will also be posted on social media sites.
Interested in Becoming a WIB Keynote Speaker?
If you would like to submit a proposal to be a keynote speaker for a 2023/2024 Women in Business meeting, please download the Word or PDF document and follow the listed submission steps.